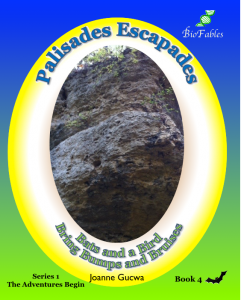 Adventure and mischief seem to go together whenever and wherever Mallory and Melody Maloney happen to be exploring. What awaits the seven-year-old twins at the Mississippi Palisades State Park besides impressive views at the top of the Sentinel trail? Or, for that matter, on the Iowa side of the great river?
The subtitle of this fourth book of BioFables, Series 1 holds a clue. Melody suddenly realizes that her brother may have a special capability when it comes to those bumps and bruises.
Before the family starts out on this adventure, however, Mallory needs to fulfill an hour's community service back at the Indiana Dunes. He comes away with a new friend, new knowledge about the region, and a rock-solid example of it as well.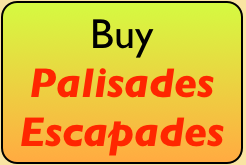 Book details: 56 pages + introduction and Index; 16,613 words; 28 photos, maps, drawings and other illustrations. $18. Published April, 2016.
Chapter

Subjects/Topics

Resource Links

Helpful Hints

Earth, Space Science:  Mississippi Palisades State Park

Chapter 1
Unfinished Business


Social, Society: removing natural objects; community service; Human, Family Values: returning lost objects; Earth, Space Science: wind; dunes movement

Chapter 2
Community Service


Social, Society: community service; Earth, Space Science: embedded fossils in rocks; glaciers; Lake Michigan; Great Lakes; states; inland sea; Biology: petrified sea creatures
Glacier facts
All about fossils

Chapter 3
A Rock-Solid Contract


Language: Agatha Christie;
Sherlock Holmes; Social, Society: community service; legal contracts; Human, Family Values: "giving back;" Biology: dreams; Work, Careers: software engineering
Agatha Christie

Chapter 4
Arriving at the Mississippi Palisades


Earth, Space Science: Mississippi Palisades; Health: exercise; games; eating habits; Biology: fireflies; research; cicadas; crickets; eye-ear coordination

Chapter 5
A Morning's Hike


Health: eating breakfast; hiking; getting wind knocked out of you; healthy snacks; need for water; Life Skills: map-reading; hike planning; Earth, Space Science: Sentinel Trail; sinkholes; Human, Family Values: disobedience; Biology: human vs. dog hearing; bat squeals
Hearing ranges

Chapter 6
A Spectacular View


Earth, Space Science: Mississippi River; History: Native Americans; Math: division; relating objects of different sizes; Biology: cicada molting
Mississippi River facts

Chapter 7
The Best-Laid Plans


Life Skills: adaptability to changing conditions; Arts: photography; singing; Math: symbols; Earth, Space Science: Mississippi River facts; rivers as natural borders; Language: word derivations; History: Native Americans; explorers Joliet and Marquette
More Mississippi River Facts

Chapter 8
More Escapades


Arts: Mark Twain; Life Skills: ability to swin; Biology: birds; goldfinches; Human, Family Values: need for recognition; Language: word derivations; Earth, Space Science: cliff formation

Chapter 9
On the Way Home


Social, Society: public behavior; Health: relieving muscle aches; Biology: extremophile capability

Chapter 10
Unfinished Business Now Finished; Next Adventure


Human, Family Values: compassion