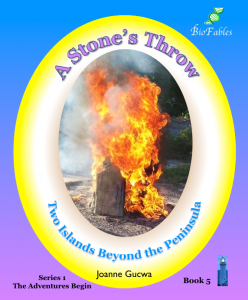 To most people, Wisconsin's Door County doesn't go beyond the peninsula. What awaits the Maloney family as they take a short ferry ride to explore Washington Island and another, even shorter, ferry ride to Rock Island's lighthouse and loop trail?
Fish boils are a colorful Door County tradition, and Washington Island offers a less-crowded version of this tradition than its mainland neighbors to the south. The twins' Dad offers his own colorful story to match the flames of the overboil.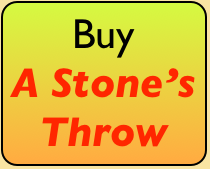 This book has 72 pages and more than 20,000 words. $18.
The table below offers an at-a-glance look at the topics and subtopics covered. Many of the original resource links are no longer available and had to be removed. We will be adding additional resource links in the future.
Chapter

Subjects/Topics

Resource Links

Helpful Hints

Earth, Space Science: Door County, Wisconsin

Chapter 1
Where is the Door in Door County?


Earth, Space Science: Death's Door; Green Bay; Lake Michigan; sandless beach History: French exploration; island family history; Physics: light reflection in water; skipping rocks on water; Work, Careers: chemistry; wellness instruction; Chemistry: rock composition; Health: nutrition; Math: calculating the middle of a location; Social, Society: removing natural objects; Life Skills: cooking

Chapter 2
Washington Island: First Explorations


Earth, Space Science: Schoolhouse Beach; Little Lake; underground springs; Death's Door; Social, Society: making friends; Physics: air and water movement through narrow openings (Bernoulli's Principle); flat vs. narrow impact on water; History: native Americans; Biology: animal habitats; Human, Family Values: trust; Health: nutrition
Little Lake Nature Preserve
Bernoulli's Principle

Chapter 3
An Even Smaller Island


Earth, Space Science: Rock Island, Wisconsin; Engineering: hand water pumps; History: Pottawatomie Lighthouse; purpose of lighthouses; Physics: Fresnel lenses; gravity; Language: word derivations (docent); Arts: poetry; Samuel Taylor Coleridge (Rime of the Ancient Mariner)
Wisconsin's Icelandic Outpost
Docent program at Pottawatomie Lighthouse
Lighthouses and fresnel lenses

Chapter 4
An Unplanned Delay


Health: cooling to reduce swelling; Social, Society: helpfulness; polite terms of address; Human, Family Values: sharing; helping with chores; Earth, Space Science: International Space Station; night sky; compass reading; Arts: music, writing poems

Chapter 5
Another Day at Rock Island


Biology: rapid healing; extremophile traits; Earth, Space Science: compass reading; Arts: music, writing poetry; architecture design; Human, Family Values: gratitude; behavior; sharing; History: rutabaga crop; Icelandic immigrants

Chapter 6
Back on Washington Island


Language: play on words; History: Nurse Nightingale; Math: Use of statistics; counting; Engineering: Stavkirke (stave church); Social, Society: Scandinavians; Earth, Space Science: Northern Lights; Washington Island sights; wetlands; Health: recreation
Florence Nightingale: Saving Lives with Statistics

Chapter 7
Fish Boil, Boiling Chips, …and Extremophiles?


Earth, Space Science: animal habitats; bird sanctuary; environmental protection; History: growing lavender, potatoes; Chemistry: water density increased with salt; oil floats on water due to its lower density; use of boiling chips; pH; Language: story-telling
Density of fluids compared to water

Chapter 8
Crossing Death's Door a Second Time


Social, Society: learning new things about people you know; Engineering: buoys, weather research; Language: word pronunciation and spelling (buoy); Technology: data transmission to satellites
Clickable map of buoy location

Chapter 9
On the Way Back


Earth, Space Science: Sheboygan, Wisconsin, Breakwater Lighthouse; Physics: setting sun reflection in sky, water

Chapter 10
Next Adventure: Discussing the Loch


Work, Careers: retirement; Health: nutrition