With a moo moo here, And a moo moo there, Here a moo, there a moo, Everywhere a moo moo. "Mom, will there be cows and pigs and chickens on the farm?"

Home gardening isn't quite as interesting to Melody as the

anticipation of getting up close and personal to cows and chickens and pigs. Her seven-year-old twin brother feels the same way. Waiting patiently for seeds to become yummy vegetables is not part of Mallory's nature; even waiting for lettuce seedlings to grow into salad material is too long. Better to dream about an adventure that's only a week away.  "With an oink oink here, and an oink oink there, Here an oink…"
The twins' Mom, Agnes, hasn't seen her cousin Martha in ten years, so she's also looking forward to
the trip and introducing her children to their aunt and uncle. The twins get a quick lesson in how to read a family tree and an even quicker lesson in some shorthand math symbols.
It's 300 miles to the Speaken farm, and the twins' Dad just got an offer to test drive an experimental car that runs on fuel cells instead of gasoline. The twins get a reminder from their last trip on the chemical composition of water. Everyone's happy not only because the car runs cleaner, but also because there's room for Grandpa Mike and their dog, Rufus.
Aunt Martha and Uncle Frank warmly welcome the Maloney family to their farmhouse. It's soon bedtime for the twins; the adults enjoy homemade pie with home-grown strawberries and milk from Bessie (the cow).
Thanks to rain during the night, the twins learn where the smell of damp earth comes from. They also had a chance to tell Uncle Frank what they knew about pH when he told them about testing soil for crops.
After learning how to feed chickens and collect eggs, the twins go with Uncle Frank and Grandpa Mike to the local cold storage locker to pick up some packages of meat.
Mallory wants to be an extremophile, because Melody seems to be one. Mallory's inquisitive nature, however, sometimes gets in the way of caution and common sense. Mallory's inquisitive nature, however, is exactly what reveals his own special extremophile abilities as he finds himself enclosed in a pitch dark, walk-in freezer room.

The twins know from their own garden that vegetables don't always come from a supermarket. Now they get first-hand experience in not-so-successfully catching tomorrow's chicken dinner, pumping water from an underground well and building a fire to boil the water for de-feathering the chickens. They also learn a little bit about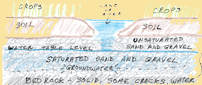 water tables and aquifers, and the slowly-changing planting zones, that farmers need to understand.
Predawn the next morning, Uncle Frank, Grandpa Mike and the twins head to the barn to milk cows. Melody has a surprise for her brother. Uncle Frank steps in before Mallory can retaliate. Uncle Frank suggests that his three guests enjoy the multi-colored sunrise as he finishes the milking.
That evening, Mallory and Melody get to see thousands of stars, locate the Big Dipper, and watch as the moon moves through the sky.
Heading back home the next day, the family stops to enjoy a picnic lunch among old airplanes at an outdoor museum. Melody and Mallory learn that Grandpa Mike flew airplanes as a military pilot. Interesting coincidence?
The twins also learn that the "dry ice" keeping their dessert cold really carbon dioxide. It's so

cold it could burn your skin.
A surprise awaits the family when they return home. Some lettuce leaves are nearly ready for the salad bowl, thanks to a steady rain during their long weekend away.

The next time Grandpa Mike visits, he brings over his star atlas book (suburban skies are rarely dark enough to see more than just a few stars). The twins decide to create their own version of the farm's starry sky with Dad's black desk pad, some string, stones and sugar.
Ages 10-adult. Read to (or with) children younger than 10.

Age-appropriate topics in biology, chemistry, physics, earth science, and math weave their way among non-science areas such as graphic and language arts, history, and values in each BioFables book.
Book details: 53 pages + introduction and Index; 15,986 words; 31 photos, maps, drawings and other illustrations. $18.

Parents and teachers may find the following table helpful for guiding young readers of E-I-E-I-Uh Oh to additional learning resources; it also identifies topics and subtopics of the science, fine and liberal arts, health, work and family values appearing in each chapter.
There are two types of Resource Links: 1) websites with age-appropriate information for children have links in bold and 2) sites with more-advanced content for parents, teachers and bright children who want to learn more. The Resource Links aren't complete yet. Due to the fluid nature of the Internet, many of the links found early in the writing process no longer exist.  We're updating each book's resource tables.
Chapter

Subjects/Topics

Resource Links

Helpful Hints

Social, Society: family relationships; Earth, Space Science: car pollution


Chapter 1
And Lettuce Seeds All  in a Row


Social, society: family relationships; Life Skills: gardening; Earth, Space Science: farming; Math: symbols
Greater than/less than symbols

Chapter 2
A Car of the Future?


Chemistry: hydrogen fuel; water; Earth, Space Science: the environment
New fuel cell technology

Chapter 3
Down to Earth


Human, Family Values: generosity, gracious acceptance; Biology: cows' milking time; soil bacteria, uses in antibiotics; Chemistry: pH
Fuzzy logic rice cookers
Soil testing techniques

Chapter 4
Brr!

Physics: sticking to cold things; Life Skills: calm reasoning; gardening; Family Values: disobedience, sibling loyalty; Health: sausage ingredients; Biology: cow eyes

Chapter 5
A Chicken in Every Pot


Biology: chicken as food; Life Skills: catching, preparing chickens; Engineering: water pump; Physics: drawing water from ground; Earth, Space Science: groundwater, geysers, climate zones; Language: word derivation (aquifer)
Catching, plucking chickens
How hand water pumps work
Water table, groundwater
Groundwater, aquifers, wells
Illinois climate zones

Chapter 6
A Farm Chore Turns Fun


Social, Society: farm life; sharing household chores; Earth, Space Science: sunrise, sky colors; Biology: cow milk production; Life Skills: milking cows; Engineering: fuzzy logic rice cooker; Work, Careers: software engineering

Chapter 7
Dark!

Earth, Space Science: night sky; Big Dipper; Life Skills: taking care of tools; telling time by stars; Arts: writing poetry; telling stories
Using Big Dipper for compass

Chapter 8
Back to Familiar Life


Social, Society: traditions; Biology extremophiles; aging eyesight; Physics: dry ice, temperature lowering; Chemistry: dry ice, chemical composition; Work, careers: airplane pilot, retirement; Language: play on words; Technology: clean fuel
Dry ice

Chapter 9
Next Adventure


Life Skills: gardening; Health: nutritious meals; healthy aging; Earth, Space Science: pollution reduction; Human, Family Values: generosity; gratitude; Language: play on words; Art: creating star maps