Parent's Guide to BioFables Books
Introduction
For a quick look at all the BioFables books published so far, you can click on the Series 1 Book List tab at the top of each page, scroll down to find the list on the right side of each page, or click here. Click on any book's cover image to go directly to that books own home page on this site. Click on a book's title to the right of its image to go directly to Amazon's page where you can purchase the book.
At the top of each book's home page on this site you'll find that book's cover image and a peek into some of the story's events. There is further explanation of science,as the foundation of the BioFables series.
Resources: Mini- and Pop-Up Lessons
You will find about 100 mini- and pop-up lessons in every BioFables book, covering the three major learning categories (Science, Humanities, and Values). The main web page of each book offers a Resources section with four pairs of lists and tables for that specific book:
Science

(STEM) content
Humanities content
Values/Behaviors content
Combined Science, Humanities and Values/Behaviors content
TABLES
Here are snippets of tables from Science (Book 6), Humanities (Book 3), and Values/Behaviors (Book 2):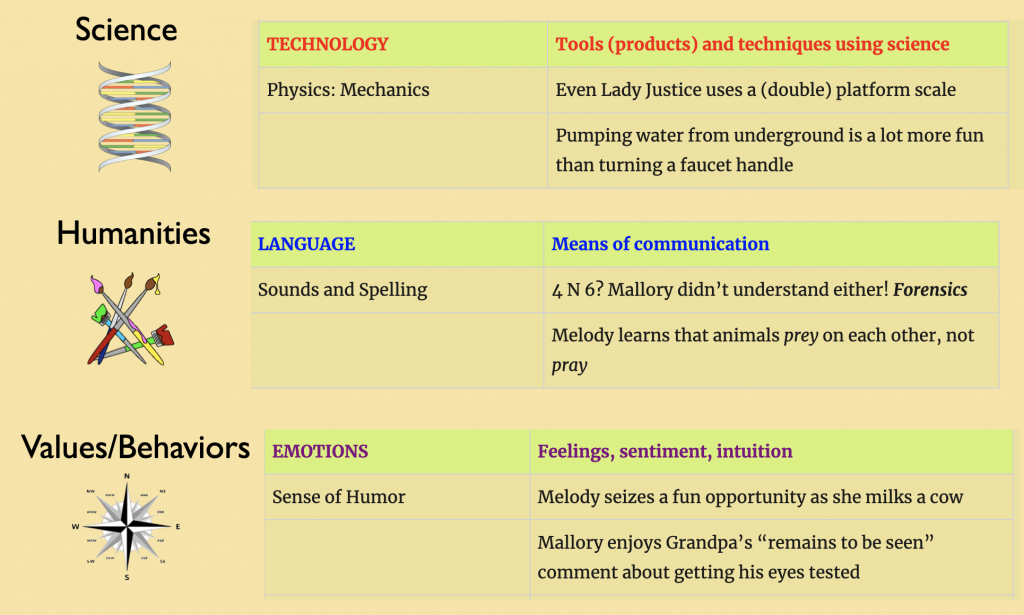 Each of the three tables offers parents an organized view of each book's learning possibilities. Highlighted background and colored text distinguish each category's major branches and their short, practical definitions. One or more sub-branches and brief descriptive snippets of the mini-lessons appear beneath its major branch. Note that Technology in the first table lists both Physics from which the technology is derived, and Mechanics (a sub-branch of Technology). See the full Science and other tables for Book 6 here, Book 3 here, and Book 2 here.
The fourth table offers parents a chapter-by-chapter view of each book. Here's a snippet from Book 5: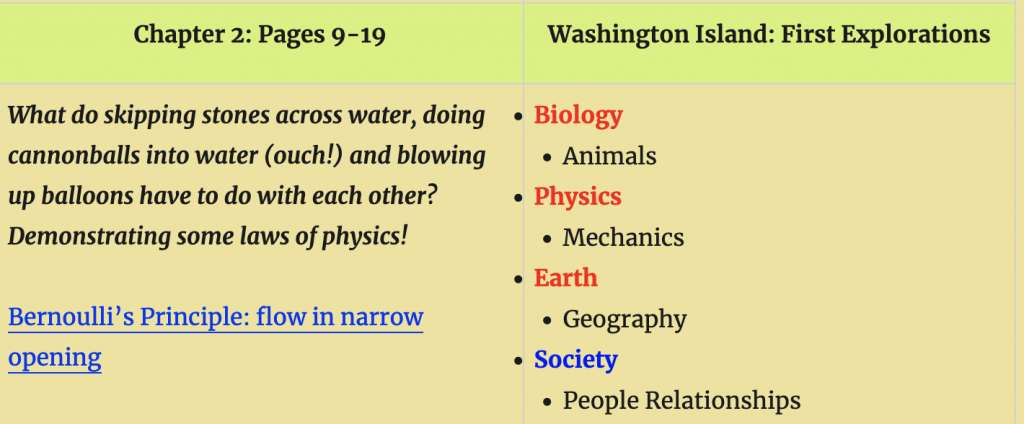 A brief abstract follows the chapter title. Links to outside resources include child-friendly links identified in orange. Major branches are color-coded, followed by one or more sub-branches. The full combined table for Book 5 is here.
LISTS
Parents can review the lists that precede the first three tables quickly to see which branches and sub-branches under each of the three major learning categories. The list preceding the fourth table, however, is a bit more comprehensive. Here's a snippet from Book 1: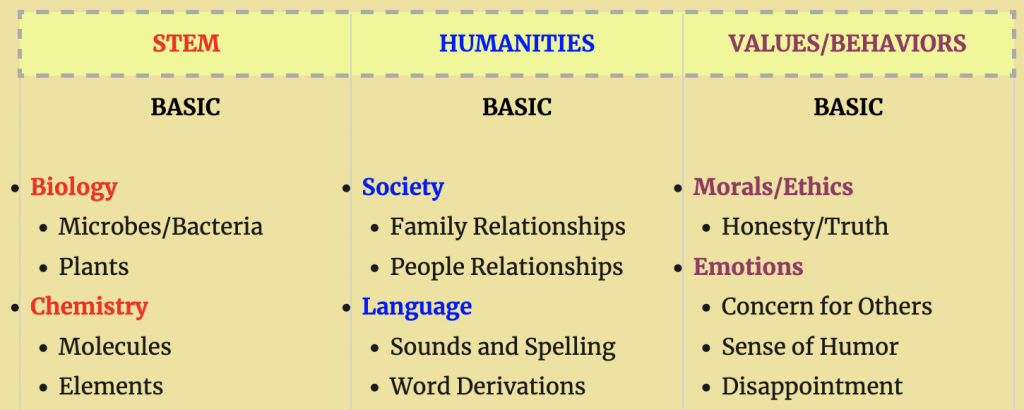 The combined list identifies the Basic, Hybrid and Applied categories for the three major classifications we use for BioFables: STEM, Humanities and Values. Since Math (STEM),  Health (Humanities) and Learning/Knowledge/Skills (Values) span both basic and applied knowledge, we have placed them in their own hybrid category. The branches and sub-branches of the other tables follow the category order of the combined list. See the full combined list for Book 1 here.
You may have noticed that some subjects or topics appear in several categories; this is because of the inevitable overlap among the smaller divisions of the knowledge branches.
Click on any of the book titles in the drop-down menu in the tab Series 1 Book List or at the right list of site pages and scroll down to the resources section.
We use every-day language for the subtopics, rather than formal taxonomic nomenclature (see what we mean?), that would speak to all readers.
To order any BioFables book, click on the link to the book's page (the list of pages appear in the right-hand column) and then click on the book's image. You'll be taken to that title's page at Amazon.
Updates of  the information resources provided for each book is an ongoing process.
In the works:
Companion books for parents and teachers. Publication for Book 3's Companion Book is under revision; Companions for the other books are planned for later release.
How Melody and Mallory Discovered They Were Extremophiles, an easy-to-read version of the first two books for younger readers. Release is planned in the future.
Book 7, Pumpkins, Mazes and More, publication is underway. Subsequent books (see list) are forthcoming.
For e-mail notifications of new releases, please send an email to publisher.