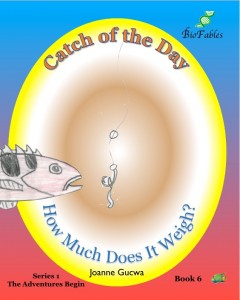 An end-of-summer weekend at a friend's "swimming hole" in the middle of farmland doesn't sound particularly exciting. Except for a mysterious splashing in the night, that is. Swimming doesn't bring to mind exciting lessons in physics, either. Except when you factor into the equation a water trampoline and a dog. 
What secret does an eleven-pound largemouth bass reveal as it's cleaned for grilling? For that matter, what fun surprises await in the family garden when they return home?

We're in the process of updating each book's topic reference tables. These tables show the breadth of each book's content, identified by chapter. Subjects and topics of the middle column appear in  bold, followed by abbreviated versions of their Knowledge Gateway(s) in parentheses. You can use this information to select books for your children if you decide to take the BioFables Challenge. Follow the links in the third column for further investigating specific topics. Child-friendly sites appear in orange.
CHAPTER
SUBJECTS/TOPICS
RESOURCE LINKS
Helpful Hints
Why learn when apps are everywhere? (Math)
Chapter 1
Door County Memories

Eyesight, cataracts (Health)
Chapter 2
Exploring "Loch Land"
Spring-fed pond; Harvest season; Using non-disposable utensils (Earth); Uses for soy (Biology, Engineering, Health); Best time to catch fish (Life Skills); Water pumps (Engineering); Self-inflating devices (Physics)
Loch Ness
Chapter 3
A Water Trampoline = Newton's Laws of Motion?
Newton's Laws of Motion (Physics); Imagery to overcome fear (Life Skills); Play on words (Language)
Laws of Motion
Chapter 4
A Fish Story
Moonlight reflecting on water (Physics); Animal behavior; Catfish (Biology); Fishing (Life Skills)
Chapter 5
A Fishier Story
Dr. Doolittle; Drawing (Arts); Animal behavior (Biology)
Chapter 6
A Fun Way to Weigh
Using teeter-totter to estimate weight; Newton's Laws of Motion; Force, distance & weight; Insects riding wind currents (Physics); Dragonflies; (Biology); Play on words (Language)
Record insect migration distance
Chapter 7
An Old-Fashioned Way to Weigh
Types of bass fish; Tomatoes (Biology); Platform scale (Engineering); Using weights and measures (Life Skills); Multiplying; Counting; Division; Converting measures (Math, Life Skills); Gratitude; Politeness; Respect (Values); Play on words (Language)
Small & large mouth bass
Chapter 8
A Fishy Surprise
Determining true weight (Physics); How to eat fish with lots of bones (Life Skills)
Chapter 9


How Gardens Do Grow

Gardening; Soil preparation; Observation (Life Skills); Plant seeds; pollination; plant leaves; plant life cycle; (Biology); Playing tricks on family members (Social, Values)
Chapter 10
Some Answers; Next Adventure
Animal behavior; Edible flowers (Biology); Respect (Values); Nutrition (Health); Money value; Willingness to try something new (Life Skills); Plant ingregients with health value (Chemistry); Word meaning (Language); Writing poetry (Arts); Newton's Laws (Physics)