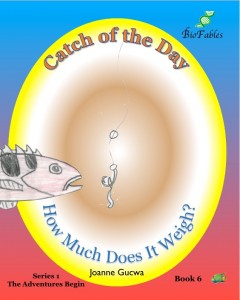 An end-of-summer weekend at a friend's "swimming hole" in the middle of farmland doesn't sound particularly exciting. Except for a mysterious splashing in the night, that is. Swimming doesn't bring to mind exciting lessons in physics, either. Except when you factor into the equation a water trampoline and a dog. 
What secret does an eleven-pound largemouth bass reveal as it's cleaned for grilling? For that matter, what fun surprises await in the family garden when they return home?

We're in the process of updating our topic reference tables. Please see Book 1: Whoosh for an example.