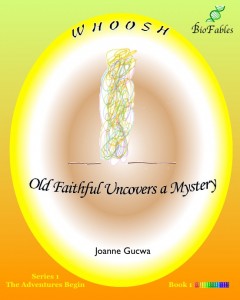 "Race ya."
 The sun was barely peeking over the horizon when Melody shouted this unexpected challenge to her twin brother Mallory.
 "No fair. You got a head start!"
 A head start was exactly what Melody had in mind. She wanted to make sure Mallory didn't reach Old Faithful before she did. (He didn't)
If 7-year-old Melody Maloney had been standing anywhere else or at any other time, this would have been an ordinary adventure story. But nature has a way of behaving that doesn't always follow the rules.

What happens when the Old Faithful Geyser at Yellowstone National Park decides to misbehave? Melody and her twin brother Mallory find out, but no one believes them.
Melody and her twin brother Mallory explore a few of Yellowstone National Park's treasures with their parents. The Maloney family's brief visit is thanks to Grandpa Mike's gift to celebrate the twins' seventh birthday: a whole year of weekend (or longer) outings in nature, mostly close to their home near Chicago's O'Hare Airport.
This first trip is particularly significant because it reveals the first of several unusual qualities that the twins possess. Melody finds herself surrounded by Old Faithful's hot steam as it erupts, caused by a sudden gust of wind. She is unhurt, whereas her brother suffers painful pinpricks from just a few drops of the superheated water. The twins take their experience in stride. Their parents, Agnes and Mort Maloney, don't believe anything untoward happened because they didn't see the hot steam engulfing their daughter and that Mallory got a jacket to hide the red splotches on his arms.
Colorful bubbling paint pots and smelly mud pots splash as the Maloneys join other visitors on the wooden boardwalk. Back in the parking lot, Dr. Ethyl A. Shun comes up and greets the family. The research microbiologist explains that a guide at the Visitor Center alerted her to the Maloneys, who expressed great interest in learning about geysers and bacteria that live in extremely hot conditions. They all return to the boardwalk to get a second look and a deeper understanding from Dr. Shun of all the activity going on in this strange place.

Dr. Shun invites the family to her private research cabin, hidden in the woods. There, Melody and Mallory learn the molecular components of water, a practical way to visualize steam's much wider spacing of those molecules, and learn about the four ingredients needed to make a geyser. They also get to see living thermometers, those extremophile bacteria that like things hot. Hmm. Melody couldn't be an extremophile, could she? The adults don't think so.

The twins are excited to share their new-found knowledge with Grandpa Mike, including that strange concept called pH, where liquids are assigned numbers such as 2 for cola drinks and 7 for water and milk. They will see how some of this information has practical uses during their next trip, to a family farm much closer to home. As it turns out, Melody might not be the only extremophile in the family. E-I-E-I-Uh Oh; Down on the (Family) Farm is Book 2 in the BioFables Series, "The Adventures Begin."
Ages 10-adult
Age-appropriate topics in biology, chemistry, physics, earth science, and math weave their way among non-science areas such as graphic and language arts, history, and values in each BioFables book.
Book details: 48 pages + introduction and Index; 13,715 words; 36 photos, maps, drawings and other illustrations. $18.

Parents and teachers may find the following table helpful for guiding young readers of Whoosh to additional learning resources; it also identifies subjects and topics of the sciences, humanities and family values appearing in each chapter.
There are two types of Resource Links: 1) websites with age-appropriate information for children have links in bold and 2) sites with more-advanced content for parents, teachers and bright children who want to learn more. The Resource Links aren't complete yet. Due to the fluid nature of the Internet, many of the links found early in the writing process no longer exist. We're updating each book's resource tables.
Chapter

Subjects/Topics

Resource Links

Helpful Hints

Chapter 1
Old Faithful = "Old Faceful?"

Earth, Space Science: geysers
Old Faithful Area
Geysers at Yellowstone

Chapter 2
Old Faithful Behaves

Health: food and nutrition; Tai Chi exercises; Biology: microbes/bacteria; Earth, Space Science: Wyoming and Chicago
Microorganisms

Chapter 3
Bubbling Along the Boardwalk

Earth, Space Science: paint pots; mud pots; geysers;  Language: sounds and spelling

Chapter 4
Nature: A Closer Look

Arts: drawing; Earth, Space Science: geysers; hot springs; fumeroles; paint pots; volcanoes; caldera; Chemistry: hydrogen sulfide; Language: word derivations; classic poetry
Geysers (Wikipedia)
How Volcanoes Work
Types of Yellowstone Geysers

Chapter 5
All Steamed Up

Chemistry: water; molecules; steam; Math: comparing big and little things

Chapter 6
How Hot Is Hot?

Earth, Space Science: geysers; mud pots; Physics: heat; pressure; temperature; Language: classic books; writing/singing; poems

Chapter 7
Living Thermometers

Biology: bacteria; extremophiles; plant metabolism; Human, Family Values: humor; Language: word derivations; Technology: microscopes; Life Skills: creativity
Extremophiles (Wikipedia)

Chapter 8
pH? What's That?

Chemistry: pH; elements;  Work, Careers: dreams for the future

Chapter 9
Telling Grandpa Mike about Yellowstone

Family Values: Gratitude

Chapter 10
Next Adventure