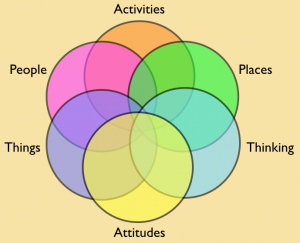 By Joanne Gucwa, BioFables
BioFables stories show how learning can be a practically constant flow for children. The simplest, most basic activities lend themselves to different kinds of lessons. Let's take gardening as an example. These are just some of the "roots" for talking about and actually working in your garden: seeds, soil, water, insects (beneficial and harmful), weather, patience, plant growing patterns…
While children can and do learn by themselves by watching and experimenting, their greatest understanding will come from People, the first and most important of six factors we'd like to highlight.
People
Parents and other close relatives are usually a child's earliest teachers and mentors. So it is with BioFables stories. Other friendly, knowledgeable people also pop in and out of the stories such as those in the first three books: a scientist studying extremophiles (Whoosh, Book 1); Uncle Frank, a farmer (E-I-E-I-Uh Oh, Book 2); a police sergeant, and several park rangers (Sand Sack, Book 3).
Places
Travel to unfamiliar places enhances resiliency, encourages observation, and supplies opportunity for new experiences. The outdoors takes center stage: from as close as the family's back yard garden in northern Illinois near Chicago (E-I-E-I-Uh Oh, Book 2 and Catch of the Day, Book 6) to Yellowstone National Park in Wyoming (Whoosh, Book 1).  Much farther afield, the last book in the first 12-book BioFables series (Ninja Mom), will take place in Yokohama, Japan. Books in subsequent series will incorporate other international locations, including Norway and Switzerland. Each place has its own unique pop-up wonders to discover.
Things
Our definition of Things: Man-made, non-living items, plants and animals. In other words, everyTHING except People.  Examples of pop-up learning from things: water under the ground and how to use a hand pump to bring it up (E-I-E-I-Uh Oh, Book 2);  "living dunes" move and hide things (Sand Sack, Book 3);  fish and people pop up…literally…presenting fun pop-up lessons on gravity, weighing without a scale, and even Newton's Laws of Motion (Catch of the Day, Book 6).
Thinking
Everyone thinks, right? But what is thinking? Our definition of Thinking: Analyzing or evaluating a problem or situation, coming up with ideas, and using reasoning to reach possible conclusions. Why is BioFables so committed to encouraging the development of thinking skills? See our five levels of Why and read some extra thoughts on how to improve a child's thinking skills.  Mallory and Melody learn how to get an idea of large distances by comparing them with known objects by using rules of thumb (Whoosh, Book 1) and (Palisades Escapades, Book 4); the twins and their friends get help figuring out why narrow passages of water, such as is found at Death's Door, are so dangerous (A Stones Throw, Book 5).
Activities
As mottos go, we think it's hard to argue with the ancient, and ageless, Mens sana in corpore sano (a healthy mind in a healthy body. Plenty of far-more-recent studies have come to the same conclusion. A BioFables sage might say a healthy body smooths the path to pop-up learning. Gardening and milking cows (E-I-E-I-Uh Oh, Book 2) may not be everyone's idea of health-promoting activities, but did you know that gardening can burn 200-400 and that milking cows by hand burns 136 calories/hour? Each BioFables book incorporates plenty of outdoor activities; here are a few examples: climbing dunes (Sand Sack, Book 3); hiking up steep trails (Palisades Escapades, Book 4).
Attitudes
Rain can dampen spirits or, as Grandpa Mike shows, rain can stimulate creativity (Palisades Escapades, Book 4). Grandpa Mike also demonstrates his gratitude for lighthouse docents by accommodating the Maloney family after an accident (A Stones Throw, Book 5). Someone's rude behavior during a park ranger program offers the twins' parents a pop-up chance to explain why respect and a gracious response are a preferable response to bad manners (Sand Sack, Book 3).