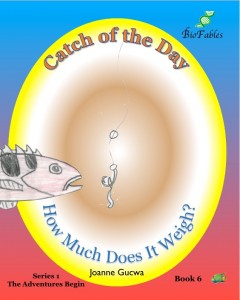 Catch of the Day; How Much Does It Weigh? (BioFables Book 6) now available.
What does a water trampoline and a teeter-totter have to do with Newton's Three Laws of Motion? What about those mysterious splashes in the night?
Fishing, playing in the water, weighing a freshly-caught fish…all of these activities are ordinary ways of enjoying a last-of-summer outing. If the Maloney family is around, you know to expect the out-of-the-ordinary.
Everyday life offers countless opportunities for exploring how the natural world works. Add travel and some unusual biological traits to the mix and you've got nearly unlimited chances for learning STEM (Science, Technology, Engineering, Math) subjects in a fun, spontaneous way. Parents (especially home-schoolers), grandparents and teachers will appreciate BioFables' family-friendly approach to reading and learning.
In Series 1, The Adventures Begin, secrets and mysteries surround 7-year-old twins Mallory and Melody Maloney as they discover exciting things about themselves and the world around them. You'll meet their parents, Grandpa Mike and a friendly scientist in the first book. Later books in this 12-book series will introduce additional members of the Maloney family plus a variety of friendly, helpful people who contribute to life's lessons. BioFables Books 1 and 2 are a kind of prequel to the series; the books describe how Melody (book 1) and then her brother Mallory (book 2) discover their extremophile abilities. The science and math in these first two books may be a bit advanced for younger readers. Children 7-9 can catch up on this background when they are ready. The book list provides brief descriptions of the books in this series.
Each of the twelve books comprising Series 1 introduces a broad assortment of topics, as outlined in the diagram below.. The eclectic mixture of subjects in the books mimics real life, as Melody and Mallory come across nuggets of information ranging from astronomy to music to zoology (and hundreds of others in between). This introduction to many different areas allows young readers to discover which ones spark their imaginations. You can help ignite those sparks by exploring with them this site's links to additional resources; tables with resource links for each book, arranged by chapter, will be completed by the end of the second quarter of 2016.
Please also see our Site Tips.
Previous Books in the Series